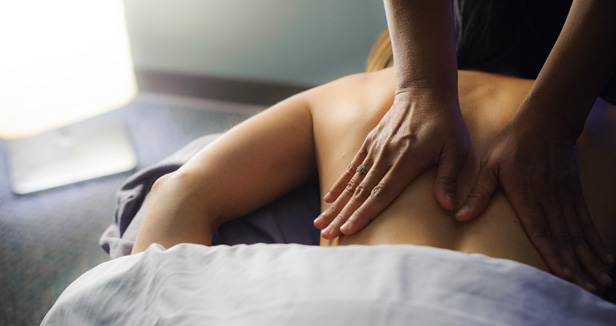 Massage therapy is a hands-on manipulation of the soft tissues of the body including muscles, connective tissue, tendons, ligaments, and joints. It is also an alternative option to help alleviate the soft tissue discomfort associated with every day and occupational stresses, muscular overuse and many chronic pain syndromes.
Massage therapists work to improve circulation of blood through the body and to speed the removal of metabolic waste products from muscles. Their skilled kneading increases the flexibility of muscles, ligaments, and other soft tissues.
We offer the following massages:
Cranial Sacral Technique – A craniosacral therapy session involves the therapist placing their hands on the patient, which allows them to "tune into the craniosacral rhythm". Craniosacral therapists believe that this treatment modality has the ability to treat mental stress, neck and back pain, migraines, TMJ Syndrome, and chronic pain conditions such as fibromyalgia.
Deep Tissue Massage – A type of massage aimed at the deeper tissue structures of the muscle and fascia. Deep tissue massage uses many of the same movements and techniques as Swedish massage, but is performed with deeper pressure at a much slower pace.
Swedish – A widely used relaxation technique designed to release stress and muscle tension. Gentle to moderate pressure is applied in rhythmic broad sweeping strokes to calm the nervous system and increase circulation.
Do we take your insurance?
Healthy Living Chiropractic is an in-network preferred provider, and accepts most health insurance plans as well as automobile and work injury claims. Learn More
How soon can we see you?
We have very flexible hours including appointments on Saturdays. Call us 503-908-0881 or send us an email to get the process started. Contact Us